Top 5 Halloween Activities for Grandkids
October 11, 2018
Halloween is one of the most imaginative and creative celebrations for not only children but adults too. Whether it's dressing up as a classic ghoul or becoming a character from the latest Disney production, Halloween is a holiday most children look forward to for months. There are so many activities to check off in the short 31 days, so we've done the work for you and narrowed it down to our top 5 activities for Halloween in Utah.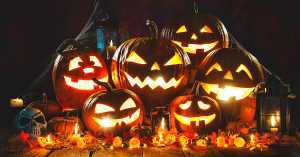 1. Pumpkin Nights
Think December's drive-through Christmas light show in October, switching out snowflakes for pumpkins and mountains of snow for bales of hay, Pumpkin Nights is Halloween heaven. Pumpkin Nights is a Utah favorite and Salt Lake City just so happens to be one of four cities to host the event! Explore the ghostly pirate ship and undersea wonderland built using over 3,000 handcarved pumpkins and funkins. Kids can get their face painted or embark on a scavenger hunt digging for treasure in the Pumpkin Pirate Cove. There is no shortage of entertainment here and Pumpkin Nights has proven to be a grandkid favorite!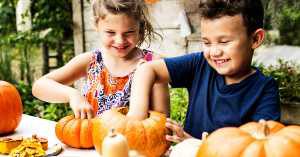 2. Pumpkin Decorating
October evenings are meant to prepare you for the winter ahead resulting in chilly nights. Save Pumpkin Nights for another day and stay in to decorate pumpkins with your grandchildren. This involves no carving, which equals no mess! Visit the nearest craft store and pick up washable paint, fabric, glue and googly eyes to create a monster of your own. Check out these 21 ways for kids to decorate pumpkins for ideas.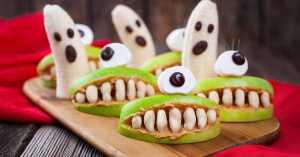 3. Make a Halloween "Treat"
Along with a peak in creativity, Halloween may also peak visits to the dentist. Give your kids a break this year and consider making this healthy treat for a night with the grandkids. Believe it or not, there are ways to get around this and we know exactly the trick for the treat! Introducing Fruit Monsters! A fun way to celebrate Halloween, while eating healthy at the same time.
All you need is the following:
– Sliced apples
– Sliced strawberries
– Spreadable peanut butter
– Candy eyes (you can find these at most grocery or craft stores like Michaels or Hobby Lobby)
– Mini marshmallows
– Sunflower seeds
View the full recipe here and keep reading for more ideas!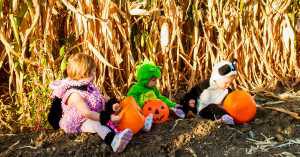 4. Cornbelly's
A trip to Cornbelly's has become an annual tradition for Utah families and it's the best place to spend a day with grandchildren. From freshly baked goods to hay mazes and live performances, a day at Cornbelly's is one to remember. For the older and much too cool grandchildren, shortly after sunset Cornbelly's turns into a night of chaos as it mutates into Insanity Point. So … if you are seeking an adrenaline rush or scare, see the night through and let us know how it goes. We are going to stick with the freshly baked goods and dancing pumpkins. Click here for ticket info and directions.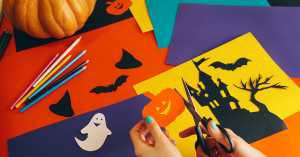 5. Make a Simple Halloween Craft
For our last Halloween activity highlight, we have the Halloween Hanging Ghosts craft. This easy-to-make craft is a fun activity for kids at any age. Using cardstock, scrapbook paper, or poster board, a marker, scissors, and fishing line, you can transform any room into a ghostly chamber! View the step-by-step instructions here.
Still looking for some more ideas? We have the perfect Sea Salt Caramels recipe from our very own Director of Culinary Arts Marcus Cordova. Follow along with Marcus as he makes his special caramels in the microwave here.
Enjoy and Happy Halloween from Summit Vista!